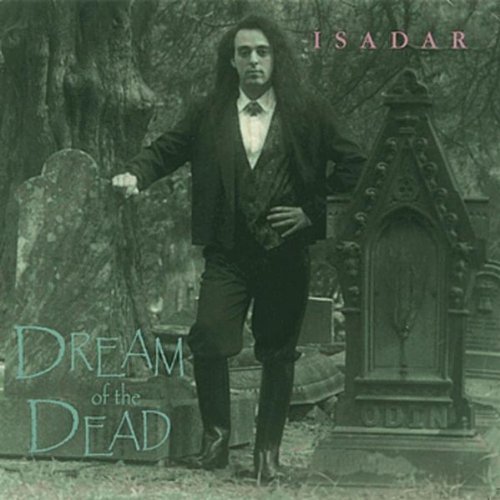 NEWS FEATURE
Thibodeaux Hopes To Rock Charts With Album
by Marilyn Hudson, with photos by Brad Bigley
additional interview and final edit by Angela Simoneaux
The Baton Rouge Morning Advocate
(Saturday, May 26, 1990)
LAFAYETTE – Fabian Thibodeaux's music wouldn't sound out of place in a New York nightclub, but his modern compositions flow from the pen of an Acadiana native.  The 22-year-old, born in Church Point, spends his days in the Dupre Library at the University of Southwestern Louisiana filing away government documents, but at night and on weekends he's pounding out melodies on the keyboard of the grand piano in his mother's living room.  He composed all the songs on his upcoming album "Dream of the Dead."  He sings, plays most of the instruments heard, and is producing it himself.  His production company, Is-A-Door Productions, takes it's title from his real middle name, Isadore, which is pronounced "Isadar" which will serve as his stage name.
"It's all a dream," Thibodeaux says of his album's theme.  "The singer/character goes to sleep and awakens to 'Wake Up,' the 10th and final song on the album."  The songs on the album include eerie, cold ballads; popping, driving dance music; and New Age compositions.  But the music is difficult to pigeonhole.  Even Thibodeaux can't put his finger on it.  "I don't know.  I don't know how I would describe it," he says.  "My influences are Peter Gabriel, Kate Bush and Laurie Anderson.  They form a sort of creative pyramid in my psyche, probably due to the fact that they've done some projects together.  I guess you could say I'm picking up where they left off.  We'll have to wait and see how it turns out."
The album is set for production on compact disc this fall and will be distributed to record shops in Lafayette, New Orleans and Baton Rouge, Thibodeaux said.  If he can swing some play on local radio stations, he'll ship it off to record labels for their consideration, he said.  Thibodeaux is mixing the songs now at La Louisianne Recording Studios.  The songs are dominated by Thibodeaux's keyboards and vocals, with additional work on the acoustic piano, oboe, and flute.  Saxophonist Dicky Landry, who toured Japan with performance and recording artist Laurie Anderson, and the legendary Rufus Thibodeaux, a Cajun fiddler, also play on the album. 
Thibodeaux has played the piano since the age of five.  "My mother plays the piano, but my oldest brother Dexter (nine years my senior) really taught me as he was learning himself," he says.  He learned to play the other instruments performing in the high school marching and concert bands in Church Point.  It was during his senior year, in 1986, when he transferred high schools and left all traditional music programs due to a major disagreement involving his band director, the school principal, and himself that he began composing on piano.  "It was a blessing in disguise," Isadar said of his negative experience.  "Melodies came to me as I played the piano," he says.  "Before I knew it, the music was there."  A year later, he began adding lyrics and finished "Wake Up."  He's inspired by television shows and books, especially science fiction.  "Songwriting is a personal thing," he says.  "Putting lyrics on paper can take from five minutes to years.  I get ideas and wait for them to develop."  He's financing the production of his album himself, and living with his parents has enabled him to save enough money to do it, Thibodeaux says.  Thus far, the project has cost approximately $6,000 and probably will total $15,000 before its completion this fall, he says.
A USL graduate, Thibodeaux was asked by USL's Theatre Professor/Director Laura Drake to write a fresh musical score for the school's production of Megan Terry's rock musical "Viet Rock."  A memorial piece in which Drake directed and dedicated to all victims of war.  Four instrumental mixes of songs from "Dream of the Dead" were used in the production in which Thibodeaux wrote additional unique melodies specifically to work with the show's lyrics.
He also performed his New Age piano compositions at the Cafe des Artistes in downtown Lafayette during October and November of 1989.  Confident of his ability, Thibodeaux hopes to be a successful producer and established artist by the time he's 40.
###