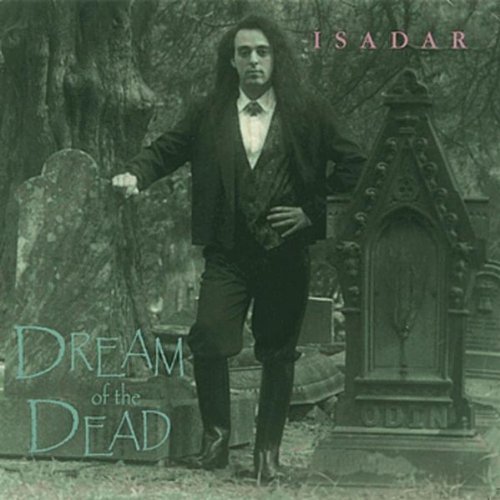 Album Review
Dream of the Dead / Isadar
Mainya Music Entertainment
by Lola Jackson
(February 1997)

Whenever anyone approaches me to review an album of music, I usually start to cringe because I never know what could possibly be inside. And usually, it's the same old thing over and over again- – just repackaged. So, it's songs: they have lyrics, they have a melody, a verse, a chorus, a refrain, lots of guitars – – then it's like deja vu –it happens all over again a dozen or so times. Nothing surprising. Nothing special. But when I saw the name, "ISADAR," and the album cover of the artist standing in what looked to be an 18th century, eerie, haunting, graveyard, I knew I was about to embark on something different – – I just didn't quite know what it would be, nor was I expecting to find what I found.
The opening cut "Reality (Two Different Worlds)" with it's pulsing boom kick drum, almost African in origin, sounds like an inverted amplified heartbeat, underneath the telling of a story, lyrically, about how the character knows that when he is asleep, some other dimension exists. The song kept wanting to take me deeper, groovier, just hinting at a heavy "House" dance-track, but never made the mark. I felt teased! I later discover, that's not Isadar's intention – – he has a greater vision for your listening journey. Still, I think a remix of this track would have DJ's across the scene spinning like Wonderwoman. Is he asleep, or is he awake? Is he dead, or is he alive? Who cares! Just give me the dance remixes. . .
Then, as if living in New York he doesn't hear enough of sirens, we get the cue of ambulances triggering the title track, "Dream of the Dead" '. . .after the accident. . .' a clever song that's so full of textures and layers you understand why it took him years to make this record. This song is so unique and full of style that once it was over, I found myself already associating an intangible feeling and image from the music to the artist.
Next stop in this dream is "Hangin' On" with it's surreal "new age" environment and pseudo-jazz feel courtesy of Dicky Landry who performs a step-out soprano sax solo. It's a tale of rejection – – only before you know you've been rejected – – the worst kind! Isadar handles it like a champ when he sings to the cruel rejector, "Admit it! You're just afraid!"
"Back to the Beginning" with it's art deco, 1930's sound, gives Isadar a chance to show off his chops. And that he does, including some of his most dramatic vocal moments.
The vivid sounds Isadar chooses to paint the audio landscapes are just as carefully chosen as a painter would carefully pick colors in a painting. Such examples are included in the track "Everything I Was Looking For" – – a lush cushion of air-like sounds that seem to wrap around his vocals like a blanket. The song is a mixture of a southwestern desert landscape blended with a tropical island flair. An odd combination, yet expertly blended.
I can't emphasize enough how each song is so different in character to each other. It's such a refreshing element that other artists either shy away from, or are unable to create due to contract limitations requiring songs for an album to consist of ones made during the same time-frame for continuity reasons. But, "Fun & Games" is a no-holes-barred rock influenced song coming out of left field, opening yet another dimension of his mysterious style. You're left wondering, "What next?"
In "Not That Easy," a short piano prelude takes you back to his earlier works leaving you to wish that it were longer. But when this ballad kicks in, you forget the simplicity of solo piano and begin to take in the rich textures of the flute and oboe, which no doubt Isadar played himself, as well as the orchestral arrangements and keyboards, making this song a definite highlight and creates moments rarely heard in contemporary music, much less pop music. Don't be surprised if this is his first single to "hit."
It's obvious that symbology has had a great influence on Isadar, particularly with the name "Odin" etched into the gravestone in the cover artwork. Odin is the Greek god of music and death. Even his record company's name: "Mainya Music Entertainment," Mainya is a Greek god whose name loosely translates to "the holy spirit." The album is also split up thematically, discreetly, only on the inside of the packaging into: "The Dream," "The Enchantment," and "The Awakening." These tarot card symbols seem to so effortlessly capture the gothic quality of the work. So, it's not surprising that "By My Side" is about the story of St. Jude. Catholicism also deeply rooted in symbology. The starburst sounds mesmerize the listener until the middle bridge completely hypnotizes into a numb state. There is no escape until the song fades away leaving you stranded.
Blending musical cultures is never easy and can sometimes be lethal. Especially with extremes such as Cajun and Japanese. Well, who would have thought that it would even be possible? Isadar pulls it off brilliantly – – with the help of Cajun fiddle veteran, Rufus Thibodeaux, who performs on the track as well as a step-out solo in the break. Even the purposely out-of-tune fretless bass, which would seem out of place anywhere else, melts into the unique timbres of the Japanese kotos, percussion and strings.
Before I knew it, the album was over with the finale of the song, "Wake Up" with it's locomotive, driving, bass-line encouraging the main character to emerge from his dream. But what surprised me most was the hidden bonus track, extracting a special section from the 12″ remix of "Wake Up," consisting of music and vocals recorded backwards with lots of heavy studio enhanced processing giving the impression of a haunting and possessed spirit. Hmmm, I wonder if there's a 12″ dance-remix of "Reality (Two Different Worlds)" hanging around?
If you're a fan of conceptual albums, or if science-fiction or dreams fascinate you, then this record is a MUST for your collection. I would not be surprised if this record gains an underground "cult" status. Isadar is the perfect example of an artist who doesn't compromise, isn't afraid to take chances, and really puts forth all to pull it off successfully.
If on the other hand, you think Mariah Carey is the next best thing since sliced bread, then – – do not pass go, do not collect $200, and DON'T BUY THIS RECORD!! Cheese is not on Isadar's menu.
###