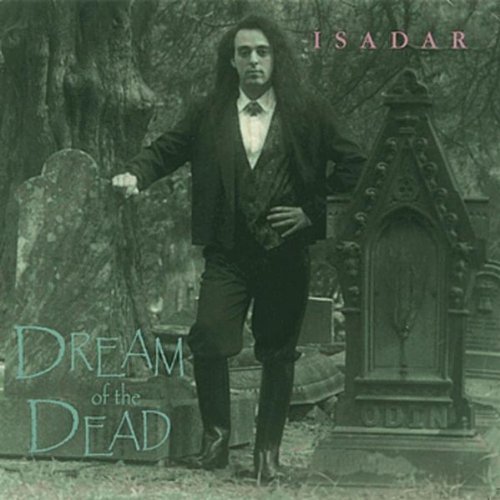 PRESS ARTICLE
Isadar Promotes "Dream Of The Dead" At Home
Baton Rouge Morning Advocate
by Dominick Cross, Special to The Advocate
(Saturday, April 19, 1997)

LAFAYETTE – It began 10 years ago in the electronics laboratory of the University of Southwestern Louisiana's music department and was completed last year at Sony Music's state-of-the-art recording facility in New York City. "I spared no integrity in making it," said recording artist Isadar, also known as Fabian Thibodeaux, a 29-year-old Church Point native. "I waited until I could afford it and do it right. Like when something wasn't working, I'd put it on the side until I could afford to finish it properly." Isadar, who moved to New York City three years ago, is back on his own turf promoting his second release, "Dream of the Dead." He'll be at Barnes & Noble today, 2pm to 6p.m. and Sunday, at the Acadiana Mall's Sam Goody/Musicland, 2p.m. to 6p.m. for in-store appearances and album signings. "Dream" is a vocal/multilayered album similar to Isadar's influences, such as Kate Bush, Peter Gabriel and Laurie Anderson. And, it's quite a bit different from his 1990 release "Near the Edge of Light," which is a collection of new-age piano solos.
"Some of the songs have so much going on that you can't hear everything," Isadar said of "Dream." "And that's intentional. It's meant for multiple plays. You've got to listen to it over and over again and then you can start focusing in on all these sounds." Isadar was pleased with the resulting mix by the technicians who also worked on Sony releases by Mariah Carey and Michael Jackson. "We took the primary tracks, which stand out front and are the meat of the song, and put them in their place," he said. "And then we spent countless hours going back and including all of the subtle details. It may be very far in the background, but it's still there. And that energy is still there." "And whether or not people will hear it, is irrelevant – they feel it," Isadar said. "And that's what I was getting at, that's where I was coming from. And where I was going with it was that result: Getting that feeling in the end."
While time passes and people change in the course of a decade, Isadar stayed with his original idea for "Dream" over the last decade. "I didn't change anything," he said. "When I laid it down on tape at the time I wrote the songs, I pretty much kept it." Isadar put down a majority of the tracks as a USL student with electronic keyboards at the music department's electronic lab. "They didn't have the capacity for me to record anything that required a microphone" he said. "I had all these electronic sounds on the tape, like percussion driven off a drum machine, keyboards, and synthesizers."
With his work on eight-tracks, he headed over to Lafayette recording studio, La Louisianne, and transferred it over to 24-track. There he added vocals and other instrumental work by locals Richard "Dickie" Landry (who played sax and toured with Laurie Anderson during her "Home of the Brave" world tour and appeared in her film), Rufus Thibodeaux (who's fiddle work on Neil Young's "Comes A Time" album earned him a Gold Record from the RIAA), Oran Guidry, Laura Drake and others.
Before he made it to New York, he hit studios in New Orleans and Metarie, then recorded and mixed a track at Danny Bennet's studio in New Jersey (Tony Bennet's son). And by 1989, the project "started evolving and just growing out of itself," he said.
Isadar moved to New York City in 1993. After a series of temporary jobs, he landed a position doing administrative work at Sony Music Entertainment in their domestic Business Affairs, Law, and A&R Administration Departments. There's something about southwestern Louisiana he can't find anywhere else. "The energy here is so strong," he said. "There's no other place in the U.S. that has this kind of commitment to music. You'll find it sporadically across the nation, but nothing so concentrated." In addition, people in the music business recommended that Isadar release his work within a 50-mile radius of his first release in order to build up interest and momentum. While he's promoting a recording of this style, Isadar doesn't play live. "I'm more of a recording artist," he said. "I think my role should technically be 'writer/producer' and have someone else out there doing stuff. With this project, I never intended to play live. "I'm more into the video/film thing – that's what I'd prefer to do," said Isadar. "If something did take off, I would perform live, but I'd want to do it like performance art, like Laurie Anderson. That's really what gets me – that's the kind of energy I want to put out there – where there's lots of visual things happening. Lots of film loops, slides, light and laser effects."
Isadar is working on demos in his home studio. They sound nothing like his latest release. "If I were to put out the music that I'm doing now, it would have nothing to do with this album," he said. "I move very quickly in and out of styles. Right now, I'm doing dance stuff." Isadar was committed to producing the Euro-art-rock "Dream" because of the money and time he put into the project. "I would've felt really guilty by just shelving that and skipping over to what I'm doing now," he said. "I just felt like as an artist, I needed to put that out there first." By next year, Isadar plans to take a 12-inch single with remixes to NYC clubs in hopes of gaining enough interest to get a record label to pick it up for distribution.
###